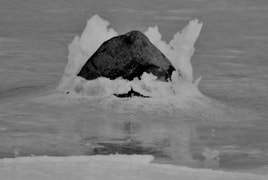 The Opposite of Trauma

We know what it's like to live with the effects of trauma in our body. But we may have gained less skill--and been less supported--in connecting with what a non-traumatized body would feel like. We can find ourselves very focused on the problem. My first responsibility as a practitioner is to learn what's working well in your body, even in the midst of challenges. When our awareness is with our strength and wellness we have unlocked our body's powerful healing capacity. In this place transformation and healing is natural.


Even reading this, you can take a moment to ask yourself--How would the opposite of trauma feel? How would my body feel if I were at ease? It is sometimes a revelation to know that even in our pain, our "stuckness" there are areas of our being that are functioning beautifully.

Have you ever seen a frozen stream? It can appear still and lifeless, but if you walk close to the water's edge, and listen very carefully, you will hear the water moving underneath. As a practitioner my very first responsibility is to find the parts of you that have flow, and rhythm. To work with trauma, we first need to find, pay attention to, and value its opposite.
---
Contact: 902-624-8663. If you would like to learn more about the work I do, please give me a call. I do my best to respond within two business days to phone calls. I also welcome conversations with other professionals involved in healing and helping. I look forward to learning more about this area and the people who are here.

Location


25 Keddy Bridge Rd,
Mahone Bay, Nova Scotia.

**Remote sessions are also available. I use the Zoom platform***